[1]
My sweet friend Liz, from Hoosier Homemade [2], is my guest today. I know you will enjoy her amazing culinary talents!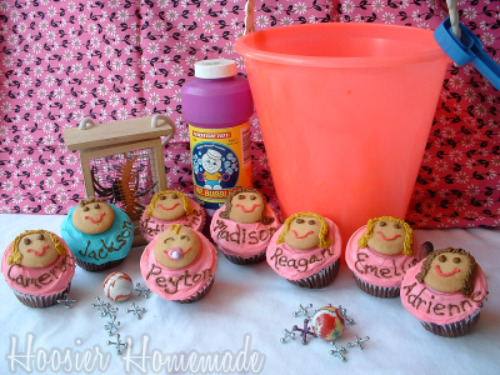 [3]
Thank you so much, Connie, I'm just thrilled to be sharing these cute Cupcakes for The Smockity Kiddos with your readers today!
Hello, Smockity fans! I'm Liz, the Hoosier Momma from Hoosier Homemade [4]. I'm a SAHM of 3 teenage boys, that keep me running with their sports and school activities. I've been blogging a little over a year, I share lots of  baked goods [5], Budget Friendly Meals [6], and decorating tips and tricks [7], all to help you "Make Your House a Home."
These cupcakes are quick, easy and would make great birthday cupcakes, Family Reunion, or even just to celebrate the birth of a new baby.
Welcome, Baby Peyton [8]!
You can start with any cupcake flavor, these happen to be chocolate. I used a Devil's Food cake mix. I change the ingredients just a little to make them taste like they are from scratch, it also stretches the batter a little.
Cake Mix
Oil (same as directed on box)
1 cup Buttermilk (1 tablespoon vinegar + enough milk to fill the cup, set aside for 5 minutes)
4 large Eggs
Directions:
Mix as usual, and fill cupcake liners, with about 1/4 cup of batter. Bake according to directions on box.
For the Decorations:
I tinted the frosting using Wilton blue and pink coloring. [9]
For the faces, I used Vanilla Wafers, and simply piped on the face with a decorator bag and Wilton Round tip [10].
For the babies pacifier, I used pink taffy and shaped it into a circle, and cut a white piece of candy and placed it in the center using a small dab of frosting.
Congratulations! Connie! We are all just tickled pink for you!